Summary
A 6-month startup acceleration program to support local Vietnamese initiatives focusing on reducing single-use plastics (SUP) in the Food & Beverage industry.
The SUP Challenge Program (Circular F&B Accelerator Vietnam) was implemented by Schoolab in collaboration with The Incubation Network. It was funded by the PREVENT Waste Alliance, an initiative of the German Federal Ministry for Economic Cooperation and Development (BMZ).
Schoolab's mission throughout this program was to accelerate startup, from different stages of development, working on plastic alternatives and reusable solutions; pilot viable solutions for single-use plastic issues, and develop impact entrepreneurship.
The 6 month acceleration program included 3 phases:
2 months for designing the program and startup sourcing: at the end of this phase the best projects were to be selected to enter the acceleration program.
2 months to incubate selected startups and develop a ready to test prototype: best prototypes would get funding to launch a pilot test in partnership with F&B corporate partners.
2 months to test the prototypes and viability of the finalist startup projects.
In the first phase of the program, Schoolab worked in close collaboration with multiple experts, F&B organisations and interviewed end consumers to adapt the program's thesis and define relevant startup selection criteria. Once all the criteria was defined, our team launched a startup sourcing campaign through our in-house digital platform and growing ecosystem of experts, investors, academic partners and innovation partners. After reviewing all applications, 7 projects were selected to join the preliminary 2-month acceleration program. For this second phase of the program, our team helped the startups to prepare their ready-to-test prototype, work on their value proposition and sales pitch, define a viable business model to create growth and bring solutions to our F&B partners' plastic challenges.

At the end of the acceleration phase, the four most viable and customized solutions were selected to go on to the pilot phase and received a $5000 funding to implement their solutions in collaboration with 2 F&B partners: Pizza 4P's and Coffee Bike. The pilot projects also received consulting support from experienced entrepreneurs and circular economy experts to successfully complete their implementation.
By the end of the program, these innovative pilot projects had helped to replace 5872 plastic items (or 18.7 kg of plastic), providing tailored and scalable solutions that could help our F&B partners to reduce up to +5 tons of their yearly plastic consumption.
Single-Use Plastics in the context of Food and Beverage industry in Vietnam
Every year, around 380 million metric tons of plastic are produced in Vietnam, but only 9% of that production is recycled. Packaging, including single-use plastic F&B containers, represents almost 36% of all plastic production, 85% of which end up in landfills or as unregulated waste.(1)
This situation does not match the general public's expectations today. Indeed, 86% of consumers in Vietnam would be willing to pay more for goods and services that are provided by businesses dedicated to having a positive social and environmental impact, above the Asian-Pacific average of 76%.(2)
Vietnamese consumers highly value product and service development initiatives to reduce packaging, avoid food waste and choose locally produced food. However, these evolutions are primarily addressed by early-stage enterprises and non-governmental organizations (NGOs), which frequently face a number of challenges such as a lack of funding, lack of cross-industry collaboration, lack of mentorship, and complex local legal frameworks. These issues are also present in the F&B industry, with the added complexity of having to consider operational constraints as well as customer satisfaction when reducing plastics.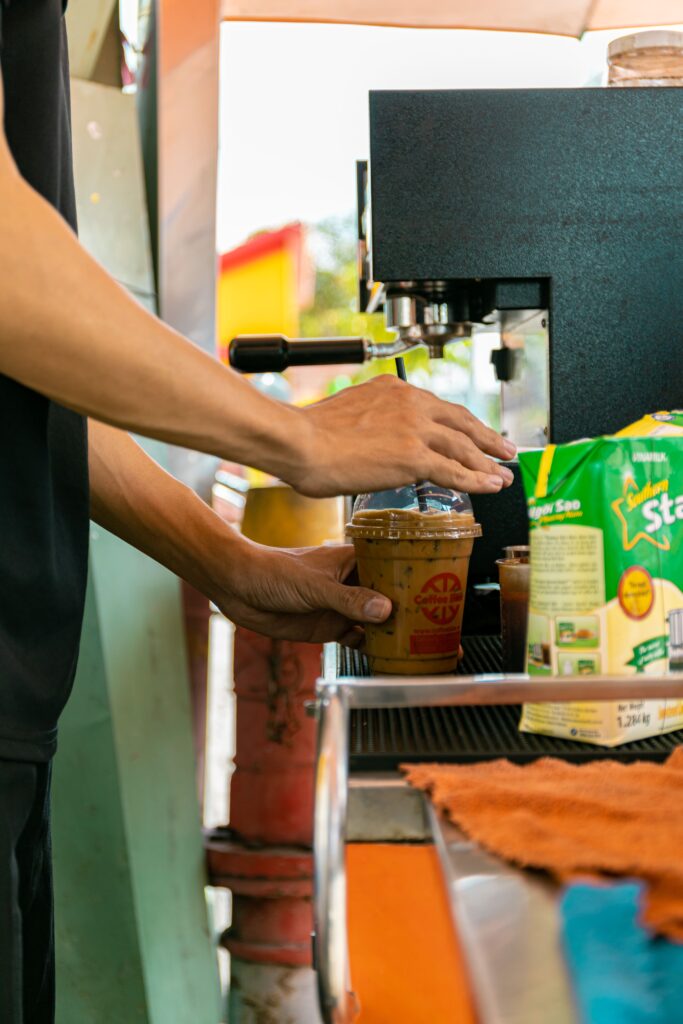 (1) Hannah Ritchie and Max Roser (2018) – "Plastic Pollution". Published online at OurWorldInData.org. Retrieved from: 'https://ourworldindata.org/plastic-pollution' [Online Resource]
(2) https://vietnamnet.vn/en/vietnamese-consumers-the-most-socially-conscious-in-asia-pacific-E177341.html
Getting a deeper understanding of challenges of stakeholders via the plastic archetypal journey
In order to gain a deeper understanding of the challenges and ensure the success of the pilots, Schoolab conducted interviews with 18 F&B industry stakeholders: street food vendors, restaurant owners, cloud kitchen operators, startups, academics, experts, venture capitalists, and accelerators.
As the program facilitator, Schoolab was particularly interested in the stakeholder's:
Approach to sustainability, both as an organization and as a brand, as well as from the perspective of end users and customers. This included their CSR strategy, initiatives, and roadmap.
Areas for improvement in the realm of single-use plastics, including experiences with both successful and unsuccessful alternative solutions in these areas.
The role and importance of packaging in their operations.
The process for defining and approving new packaging solutions.
Using the insights gathered from the interviews, Schoolab developed a comprehensive understanding of the order experience for a food service provider, their clients, and their logistics partner in Vietnam. The plastic archetypal journey also breaks down its functions, as well as potential points of intervention.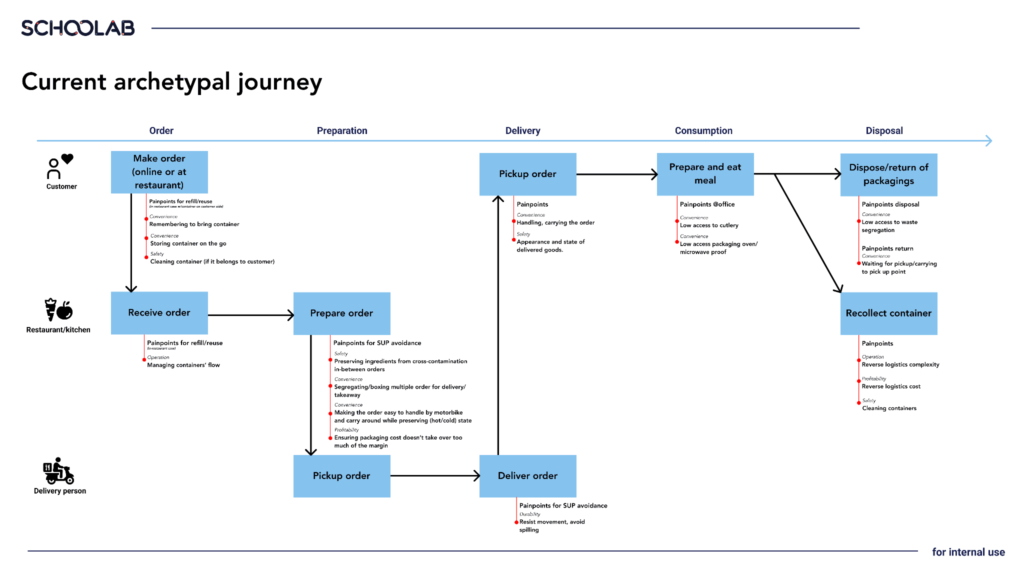 Furthermore, Schoolab pinpointed specific recurrent issues to address and identified single-use plastics (SUPs) "jobs to be done" for both staff and customers. By understanding the problems and the performance of SUPs, we were able to design prototypes that took into account both product operational performance and environmental impact.
Some concerns from our F&B corporate partners were:
The limited volume and high prices of SUP alternative solutions, due to their early-stage maturity and limited availability,
That implementing SUP alternatives may not have as much added brand value as expected to compensate for the potential impact on operational efficiency.
Alternatives to SUPs may require the creation of new safety processes or may not align with their business and distribution model durability requirements
That reusable alternatives could be less convenient for customers, meaning even return rewards would not necessarily motivate them.
The need for packaging impermeability to conduct deliveries during the rainy season, which today still relies heavily on plastics.
The challenge of developing a habit of using customer-owned refillables
That effective management and loyalty programs are necessary to encourage customer discipline and to solve logistical challenges in reusable systems.
Some of the challenges faced by SUP alternative solution providers:
Need of consistent support throughout the journey from idea generation to implementation and operation
Require support to follow up with systematic policy changes
Empower youth to help expand the business from early adopters to a larger market rapidly
Perform an ethical and affordable impact assessment
Offer different pricing models that align with their clients' business models
Increase the reliability and the awareness of their eco-friendly products for customers
"That is why we joined the SUP challenge: to raise awareness among customers and the general public, as we [only] work with businesses [so far]. It's a good way for us to interact with the final consumer and show that our product is really made in Vietnam, for Vietnam, and how it's possible at this large scale to reduce plastic pollution and plastic consumption."
Startup Cohort
Singapore-based startup company that produces home compostable food containers from agricultural waste to replace single-use plastics.
Long An-based startup provides biodegradable straws and utensils made from natural grass lepironia and agricultural wastes
Vietnam-based eco-friendly packaging provider to stop single-use plastic use and microplastic pollution
Incentivizing street coffee shops customers to reuse tumblers with rewards with a digital app
Mekong delta-based startup provides biodegradable and reusable multiple products from coconut shell
Vietnamese startup provides 100% plastic free, compostable, easy, convenient solutions to replace single-use plastics.
Provide reed straws which are low-cost with the added values: circular economy, biodiversity, and support rehabilitation for addicts.
An Acceleration Phase enabling open innovation, project acceleration and business collaborations
In order to support startups and F&B partners in addressing the above challenges and concerns, we designed a cohesive and modular experience to suit various startups' needs, including:
INJECT, Schoolab's learning platform, available 24/7, for startups to study relevant capacity-building modules to support their goals. 500+ units were completed throughout the program
1:1 weekly mentoring sessions with 12+ experts across Innovation, Business, DEI (diversity, equity and inclusion), Circular Economy and leading F&B business owners
Cohort Live Sessions, hybrid theme-based events for cross collaboration between startups and F&B partners, including Mentor Fair, Pilotathon & Field Trips to each other facilities,
1:1 pilot support for anything that may arise during the rollout for selected pilot startups, including impact assessment, legal, and logistics help.
Schoolab developed the toolkit enabling the startups and their collaborating partners to organize their pilot conversations more easily and collaboratively, including agreement on goals, important success indicators, and operational integration among other key indicators. This allowed all stakeholders to revisit the pilot objectives, identify customization needs, and agree on expectations at a later time.
A Pilot Phase, for real implementation and impact assessment
After the acceleration phase, four teams of solution providers and F&B partners were brought together to pilot their anti-SUP solutions based on three important criteria: venture development, their dedication to the objective, and the final pilot presenting proposals:
Alterpacks with Pizza 4Ps for their Bento Box from Agriculture Waste for Delivery and Takeaway
HRK with Pizza 4Ps for Home Compostable Vacuum Bags for Sauce Sachets
NOPA with Coffee Bike for Technology fostering Reuse Adoption for street coffee takeaways
Green Joy with Coffee Bike for Local grass straws and cup handles for street coffee takeaways
Program Impact Overview
As a collaboration program focused on innovation rather than just funding, Schoolab has empowered stakeholders to increase awareness of impact, as well as to develop existing solutions and ideas to reduce plastic waste in Vietnam. Unlike other incubation programs, we also provided startups with the opportunity to pilot their solutions with real F&B partners from the outset, making their learnings actionable and allowing them to iterate within the program itself.
Throughout the acceleration phase, we have fostered a sense of community among F&B partners, startups, and experts through events and work sessions, encouraging free-flowing conversations and collaboration. Our hybrid structure has also allowed startups to participate in the program remotely as needed, which has been particularly useful for those that operate outside of Vietnam, such as Alterpacks.
Yes, Green Joy has previously participated in a number of startup incubators, but there isn't really a program that is grounded in reality and allows us to connect directly with F&B chains. So for what Schoolab did for the program, it is different from what we experienced before. That is, in addition to the training, consulting, and process sessions, [Green Joy] also has a chance to implement it in practice with an F&B business. So this is the first time I'll be able to participate in a program and immediately apply theory to practice.

Nguyên Võ, CEO of Green Joy
"The opportunity to meet and discuss with various experts is very useful for me, especially in the context of a foreign company trying to bring a new product into the Vietnamese market."
As organizers, we have enabled F&B partners to gain a thorough understanding of changes that can be made in their operations, while also helping startups to make their solutions evolve to address the real challenges faced by clients and partners. We have engaged multidisciplinary and cross-industry experts and stakeholders throughout the program. Our selection process has also taken Diversity, Equity and Inclusion (DEI) into account, with women represented on the leadership boards of all seven solutions onboard the program, four of whom serve as representatives.
This program has also facilitated communication between our F&B partners and others in their sector to showcase the pilot and lead the movement toward reducing and eliminating single-use plastic while being open to disrupting current operational activities in favour of better practices.
Startups in our program have highly rated Schoolab's capabilities to deeply understand and empathize with the challenges and needs of F&B partners and end-consumers, be open-minded to new discoveries and perspectives during the observation phase, and be ready to evolve their solutions, value propositions, or business models towards more sustainable and inclusive approaches. We have also invited F&B partners and experts to collaborate with startups in co-designing and developing solutions.
On the numbers side, the pilot has already resulted in the replacement of 5,872 plastic items weighing 18.7 kg over three weeks, with the possibility of scaling up to over 5,000 kg per annum for all four solutions.
Successful case study for a cross-industry collaborations and innovations towards sustainability in the F&B industry in Vietnam
The SUP Challenge Program (Circular F&B Accelerator Vietnam) has been a successful 6-month acceleration program to support and pilot national initiatives focusing on reducing or replacing single-use plastics in Vietnam's food and beverage industry, thanks in part to support and funding from GIZ, The Incubation Network, and Prevent Waste Alliance. Throughout this initiative, Schoolab has built better support capacity to foster impact entrepreneurship, test solutions for single-use plastic problems, and accelerate startups at various stages to develop plastic alternatives and reusables for Vietnam's F&B industry, opening up future prospects.
Schoolab's learnings from SUP will enable co-design of bigger and more integrated programs dedicated to strengthening cross-industry collaborations and innovations towards sustainability in Vietnam and Southeast Asia.
"Schoolab incorporate design thinking into their program planning and execution, which gives rise to collaborative learning and experimentation. This valuable exchange between stakeholders of a sector is rare for circular economy, and it was heartening to see their ability to gather interested partners to co-create solutions together."

Sing-Suen Soon, The Incubation Network, SecondMuse